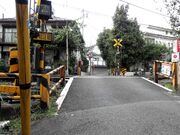 Sangūbashi No.3 Railway Crossing (参宮橋3号踏切, Sangūbashi 3-gō Fumikiri) located in Yoyogi, Shibuya, Tokyo. It appears in 5 Centimeters per Second.
This crossing is 300 meters away from the original crossing that appears at the start of the film.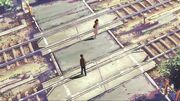 On a Saturday in April 2008, adult Takaki Tōno and Akari Shinohara passed by each other at this crossing. As they turned around to check, two trains covered their field of vision. Unlike Takaki who waited for the trains to pass, Akari decided to walk away.
Gallery
Behind the scene
Notes