The following timeline table lists the major events of Weathering With You.
Timeline
Year
Date
Event
2005
Hodaka Morishima was born.
2006
August 22
Hina Amano was born.
2011
Nagi Amano was born.
2016
March 3
Moka was born.
2019
Asuka Mamiya passed away.
Sometimes before Megumi Amano's death
Hina Amano visited the rooftop shrine of Yoyogi Kaikan and became the sunshine girl.
2020
Megumi Amano and Fumi's husband passed away.
2021
June 12
Hodaka Morishima ran from home to Tokyo. He paid ¥8,980 for the ferry, meat, beer, and dinner.
June 13
Hodaka paid ¥3,774 for cybercafe, bathing and food.
June 14
Hodaka paid ¥3,788 for cybercafe and 2 portions of food.
June 15
At 5:21 pm, Hodaka was at the cybercafe and surfing web for job advertisements and his post on Yahoo! Answers.
June 17
Hodaka paid ¥3,599 for cybercafe and 2 portions of food. He went seeking jobs in the sex clubs but got rejected.
June 18
Hodaka paid ¥3,350 for cybercafe and food. He got caught in the rain and had to pay to take a bath.
June 19
Hodaka took shelter at Shinjuku Station but was driven away by security. He stayed at a McDonald's without buying anything.
June 20
Hodaka stayed at the McDonald's without buying anything.
June 21
Hodaka met Hina for the first time at a McDonald's.
June 22
Hodaka went to K&A Planning Co., Ltd. and got employed. He and Natsumi met a fortune teller to hear the story of the rain and sunshine girls.
August 11
Jingu-Gaien Fireworks Festival was held.
August 12
Hodaka and Hina visited Fumi Tachibana. Suga Keisuke and Natsumi visited a shrine to learn about the Weather Maiden.
August 21
Suga hired the sunshine girl. At night, he fired Hodaka, which forced Hodaka to run away with Hina and Nagi Amano.
August 22
Hina's birthday. Hina disappeared in the morning. Hodaka and Nagi were arrested. Hodaka escaped from custody and ran to save Hina.
2022
August 15
Fumi Tachibana sent a request for the Sunshine Girl on Otenki-girl.jp, which was the last request the website received.[1]
2024
March
Hodaka graduated and moved to Tokyo to reunite with Hina.
While Your Name. characters appear prominently in Weathering With You, it should be noted that the resolution of this movie conflicts with Your Name.'s ending: the timeskip at the end of Weathering With You spanned from after August 22, 2021 to March 2024, during which it rained endlessly. Therefore, the reunion of Taki Tachibana and Mitsuha Miyamizu, which happened on a sunny day in the Spring of 2022, is impossible.
But it is confirmed at the premiere of the film at the Grand Rex in France in Paris, after the end of the film the director of the film, Makoto Shinkai said at the question and answer session that Weathering With You's story takes place in 2021 and Taki and Mitsuha meet again in 2022 at the end of Your Name. and does not care about the different timelines of his works.
Trivia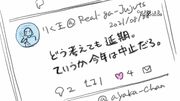 References
↑

According to the storyboard video.